All companies and organisations need to have a process in place to deal with confidential information. Otherwise they could fall foul of the Data Protection Act which can lead to fines of up to £500,000.
KN Office have been looking after businesses in the South West area for over 25 years. As a response to customer demand we launched a Secure on-site document shredding and recycling service in 2014.
On a pre- agreed schedule or date  our security vetted operatives would visit your site.  Your material would be collected and destroyed at your site using our mobile shredding truck. Once the material has been destroyed we will issue you with a certificate of destruction and shredded material would be recycled.
On a pre-agreed day our shredding vehicle will visit your site.  Uniformed security vetted operatives will collect the material and transport it back to the vehicle where destruction is immediate.  You'll then receive a certificate of destruction and your shredded paper will be taken away to be recycled.
KN Office shred all your confidential documents before leaving your site.  This ensures that you are compliant with data protection regulations and no information can be compromised once it leaves your premises.

"We have been using KN Office for printing, shredding and office suppliers for nearly two years and have always found them to offer a fantastic service. Our old printer was forever breaking down but now that we have a printer contract with KN Office we don't have to worry or lose valuable time. They look after the maintenance of the printer for us, automatically sending ink cartridges before we run out to ensure we don't have any interruptions."
— Neil Houghton Accounting Ltd.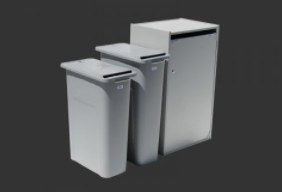 "I first started using KN Office in 2007 for a production called 'Mistresses' and have continued to use them because the service is second to none. We've used them for stationery, furniture and their secure onsite shredding service. We also regularly hire photocopiers from KN Office and their service and maintenance is fantastic... I highly recommend KN Office for all your office supplies."
— S.Monchar, Monch Films Ltd